There are an infinite number of reasons to support local sign makers. They range from the economic to the philanthropic. Generally speaking, a local sign company will offer a wide range of products with community in mind, all with the aim to add value to your bottom line. This is usually done with an eye on winning you over in order to foster a long term relationship. In this blog, we'll focus on the advantages and reasons for choosing a local sign maker.
Top Six Reasons to Keep Your Advertising Dollars Local
1. Hidden Cost of Using Online Sign Shops
While it might look like online sign companies are the better bargain that can often be misleading. Hidden costs are simply not built into the total price quote like they are for a local sign company. These can include:
Revisions – once an order is placed with an online sign company there's not a whole lot of recourse if you receive a graphic that just doesn't work. Things can look very different online than they do in person. Inferior quality materials — which we'll get into next — can also cause you to dislike the final product.
Some products, such as vinyl banners, may require a final tweaking in order to get it right. Even if the company has a policy for a "free" redo you'll most likely have to eat the cost of shipping, as well as spend the time waiting for the revisions to come in — which we will also cover later in the article.
Materials – many "lowest bidder" type operations will also use inferior materials that simply aren't up to the job. Many places will practice the old "bait and switch". Tempting you with an initial low-low price, only to then attempt to upsell you on this and that. Even seemingly minor add-ons can well… add up to a bottom line that is far higher than what you initially thought when committing to one particular company.
2. Locally Made Signs = Speed and Efficiency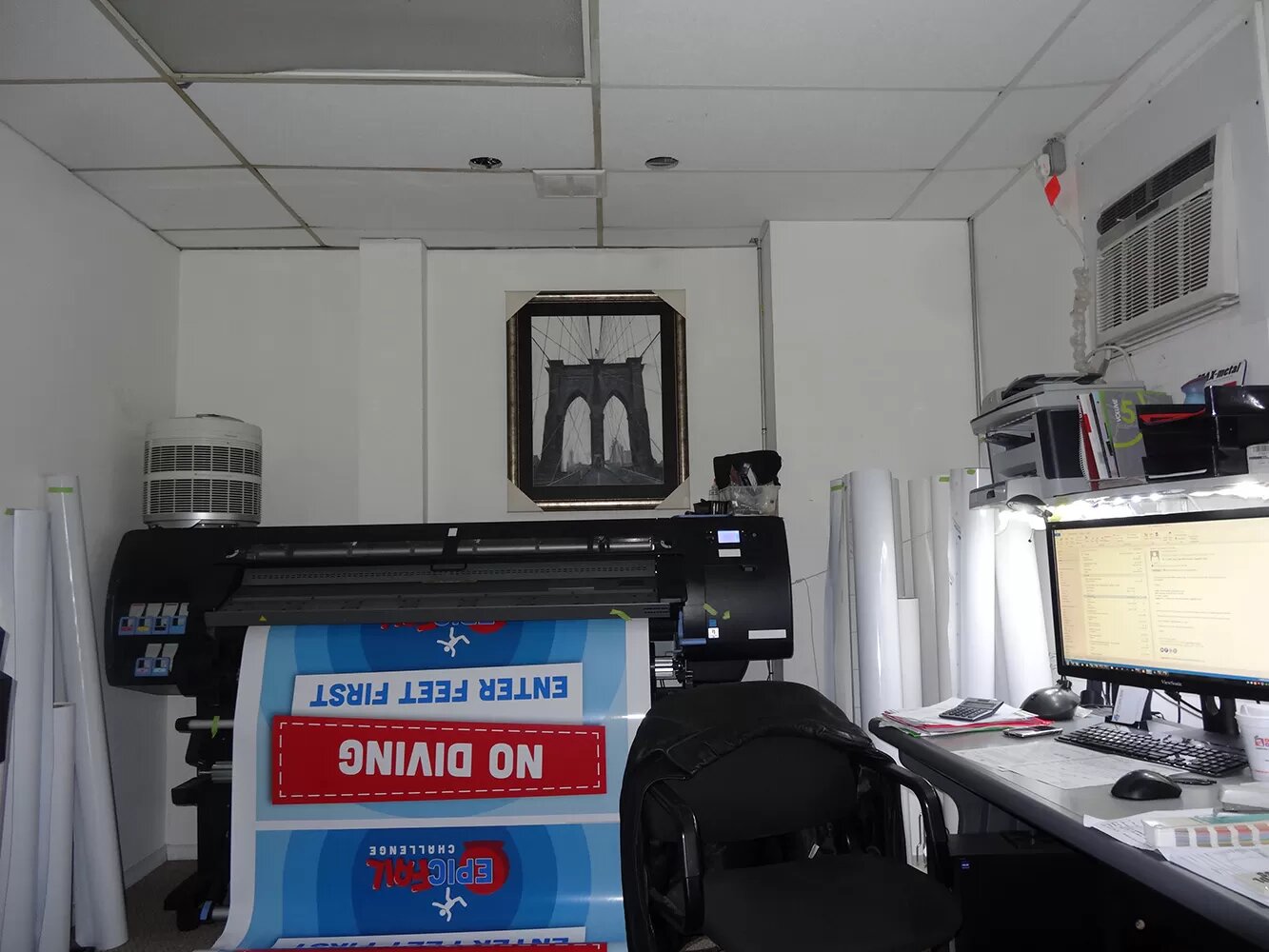 When you work with a local sign company, you can expect an organization that relies on its cherished reputation among business owners in your area. This means they will aim to please, with them making every possible attempt to offer you a unique take on vehicle graphics, custom signs or foam board products. From large paper posters to wall wraps and window letters, local shops such as Signs NY make it their business to earn your business.
Rapid Turnaround – If you're partnering with another local business you will never have to wait for long shipping times. Remember, a 2–3-day delivery time can quickly turn into 4-5 days when there's a weekend in between. Not to mention extra time wasted on third part mistakes by the shipping company or stolen merchandise that's left on your doorstep.
The time it takes to wait for a sign to ship can be a nail-biting experience. Especially when you are waiting for your second or even third shipment. As everyone knows time is money. And to use environmentally friendly verbiage, time is decidedly not a renewable resource.
Changes on the Fly – A local sign maker will often be able to accommodate last minute changes — even ones that take place in the middle of the production process. The best thing about an experienced NYC sign company is that they are probably expecting the unexpected. They can often even anticipate any revisions and suggest things that work — as well as dissuade you from choosing things that won't.
3. Easier to Choose the Right Company
When you're trying to vet candidates to choose the right sign company, local sign shops will be able to point you to a full gallery of successful work for other local businesses you probably know. Even signs that may have impressed you. Things you thought were funny, clever or graphics and installations you found professional and well-executed. The pros of using a local sign provider include:
Track Record – A familiar portfolio of previous work. Check out our sign gallery for more details.
Brick and Mortar Location – especially one you can visit and see for yourself
Tried and True – Whether it's materials, equipment, work ethic, or all-around dependability
Face to a Name – A local sign dealer will allow you to "put a face to a name". As we'll get into later in the article, this will pay big dividends in the form of more personalized and responsive customer service.
4. Local Knowledge
Local sign companies come equipped with the right tools for the job — both physical and mental. By knowing how to gear an entire marketing campaign for a local audience in Brooklyn, Queens, Staten Island or New Jersey sign companies are able to utilize their unique skillset to benefit you. They are also more interested in a long-term relationship and by increasing interest, revenue and helping to grow your business of the long haul.
5. Personalized Customer Service
There's nothing worse than dealing with someone who doesn't care about their job. While many online sign makers are probably decent with customer service, you're always taking a chance with an unknown. With larger online-based organizations there is always certainly a greater chance you will be dealing with a "customer service" representative that was recently hired and knows less about signs than the average client they are speaking with. Big letdown.
You will be speaking to a knowledgeable person.
One of the greatest things about dealing with a local sign company is their personability.  As we stated before, local sign companies are invested in their communities in a number of ways. They also employ dedicated teams of specialists that make knowing the ins and outs of signs their business. From designers to printers and installers, you will normally be speaking with a skilled, experienced technician or, in many cases, the owner themselves.
You have a place to go for repair and maintenance
Repair and Maintenance: Even the best signs can require routine maintenance such as parts replacement, new LED bulbs or sign hangers or repairs related to damage from extreme weather. Signs NYC offers repair and maintenance services, including being one of the only licensed neon sign repair companies in the NYC-New Jersey area.
6. Community Focused
If you're interested in supporting your local community, then it makes sense to have your commercial graphics produced by a local sign shop. Not only are local sign companies vested in the success of local businesses, but they often do also create signs for local schools, non-profit organizations and the like.
The ownership normally lives in the same area their store is located and by virtue of proximity, live work and spend locally, maybe even at your place of business. A local sign company ensures that your ad dollars will
Stay in your community, supporting the local economy
Support local causes that directly or indirectly effect you
May even be spent at your business.
Conclusion
By using a local sign company, you not only help yourself but you also create a healthier micro economy in the locale you do business in. From day one you will be working with a shop that shares a common interest in making your community a better place and keeping it that way. From more honest, value-based pricing to shorter turnarounds, greater flexibility with projects and a more attentive customer service model, you really can't go wrong with a local sign maker. For more information, including a free quote, contact Signs NYC anytime.