In this blog we'll be going over the process of creating Step and Repeat Banners, with a focus on placing those all-important corporate logos so that they look great — both on video and in print. Whether you're planning a photo shoot, benefit, gala or red carpet event, we'll walk you through the process in the way only a NYC vinyl banner printing company can.
What is Step and Repeat Backdrop?
A Step and Repeat banner is a type of photo backdrop banner featuring diagonally repeated corporate logos. It is normally used at the entrance or "red carpet" of large, highly publicized events such as award shows. It is normally hung from a banner stand and made from either vinyl film or, in some cases, fabric.
Choosing Your Banner Size
We've said it before and we'll say it again. When it comes to banners — or any other type of signage — size certainly matters. That's why picking the right size for your backdrop is the first and, in many ways the most important step in the banner production process. Much will depend on the size of your banner, including how photogenic it is — as well as how many of those darn logos you can fit on it.
How large will your event be? An even more relevant question to ask when determining your step and repeat banner size may be, "How many people will be posing in front of my banner at once"? In order to answer this, you may also think about how large the organizations attending your event will be, because many of them will want photos of their entire group.
The most common step and repeat banner sizes are as follows (all sizes in this article are expressed in feet, btw):
8 x 4 – This is normally sufficient for more intimate events or ones whose guests include many individuals or couples, rather than large groups.
8 x 8 – This is considered to be the most popular size for step and repeat backdrop. A good photographer can make this size work for all but the largest events by proper framing and controlling the number of people posing in front of it at once.
8 x 10 – For larger events, where groups of six or more people will want to be photographed together — or there will be multiple individuals and/or smaller groups posing at once — you'll need a step and repeat that is at least this large.
8 x 12 – For even larger events — where groups of 10 plus people will be expecting their turn on the red carpet together — a banner which is 8 x 12 (or larger in some cases) is required, in order to prevent photo snafus that leave those on the group's flanks drifting through "outer space" without a proper background.
Media Wall or Logo Wall – For the largest, televised events such as the Oscars or Grammy's, a media wall is usually employed instead of a step and repeat banner hanging from a banner stand. The biggest difference being that a media wall is not only much larger but is a sturdy wood-framed wall structure, rather than a simple banner on a stand. This wall can be made from 4-foot sections or can be contiguous to ensure a seamless appearance. It is usually decorated with either a vinyl or cloth graphic. A media wall featuring logos is sometimes referred to as a logo wall.
Banner Materials and Printing Specs
The following qualities are crucial to ensuring that your step and repeat banner looks its best in photos.
Seamless – It's crucial that your backdrop banner be one contiguous piece. A banner that is printed in two sections with an unsightly seam stitched down the middle is simply worthless as a photo background.
Matte Finish – In order to minimize the glare from photographer's flashbulbs your vinyl film should feature a matte finish, not a glossy one. Reducing glare is important if you want to keep those logos properly exposed and legible!
Gray – A plain white matte vinyl can still produce some glare under certain light conditions. By adding a light gray background to your banner logos, you can greatly reduce this risk. Don't worry about throwing off your color palette; the light gray backdrop will still photograph as a clear, gleaming white.
Pro Tip: In order to completely eliminate the risk of glare and overexposed logos, vinyl film can be substituted with a non-glare fabric. Ask the Sign Company NYC team for more information on this upgrading option.
Choosing Logo Placement and Sizing
If a step and repeat banner was a meal, the main course would be the logos themselves. A step and repeat logo will typically follow a diagonal pattern, resembling a series of stairs or "repeated steps". In some case, a logo may be repeated vertically or horizontally — which is sometimes referred to as a logo wall.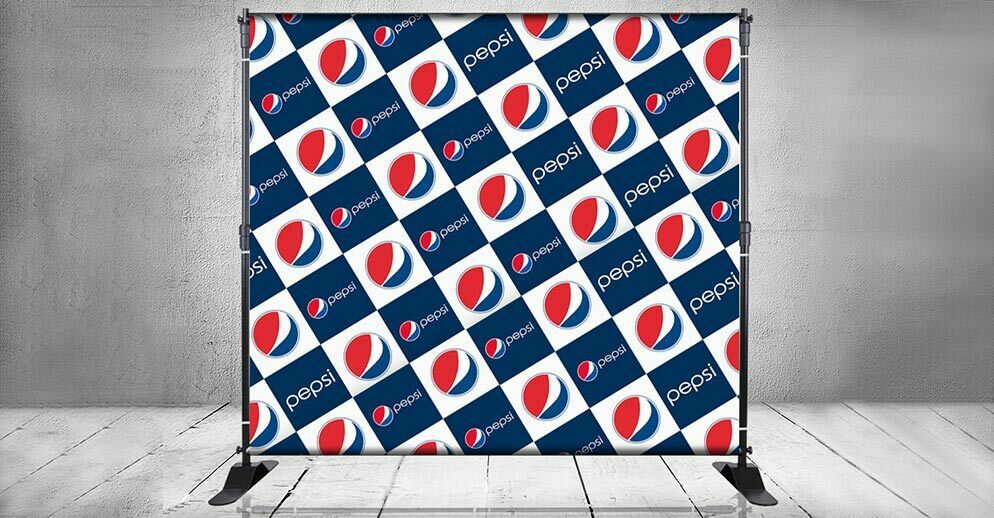 Size Matters
The most important factor in the proper placement of step and repeat banner logos is size. Event sponsors and organizers will require that their logos be legible and instantly recognizable to anyone viewing either a video or a still image of the backdrop. As a rule, the size of a step and repeat logo is normally between 9 inches and 11 inches in width. In some cases, logos may be shrunk down to a minimum size of 5 or 6 inches. Anything printed smaller than this size will simply not be readable under any condition.
When it comes to Logos, Image Quality is Key
If you want your logos to be legible, they not only have to be sized and lit properly, but must also appear clear and crisp — rather than blurred or pixelated due to a low-quality image. It's important to remember to use a high-quality graphic when transferring or reproducing logos from image files. A vector file is recorded as a series of mathematical values — such as curves, points and angles — rather than a grid of pixels. That is why it's crucial to always use a vector file, such as .svg, .eps, .ai, or .pdf. This will prevent your image from appearing warped, blurry or pixelated.
Fortunately, any non-vector image can be vectorized by competent graphic designers, such as the Signs NYC design department. If you're planning on supplying your own banner designs or using an existing corporate logo, feel free to submit your artwork to us for an image assessment and/or enhancement.
For further help with designing your very own step and repeat photo backdrop banners — as well as assistance with all other types of commercial and decorative signage — please contact the Signs New York team by filling out this form for a free quote.